Kitchen Design Ideas
Thinking of renovating or building your dream kitchen? You can ask our team of experts about the appliance models and designs that are suitable for your aesthetics and needs, or you can browse through our photo galleries below for inspiration.
Trail Showroom Display Kitchens: Our showrooms house stunning display kitchens, many of which feature appliances that are live and fully functioning so you can see the appliances in action and test them out for yourself.
Kitchen and Laundry Lifestyle Images: Get inspired by some of the best kitchen and laundry rooms from the 50+ brands we offer.
Trendsetting Appliances: Take a look at some of the newest and most innovative appliances in the market today.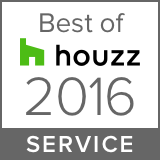 Trail Appliances is proud to be a recipient of the Best of Houzz award for customer service in 2016. This is an annual award given to only 3% of the professional community on Houzz.