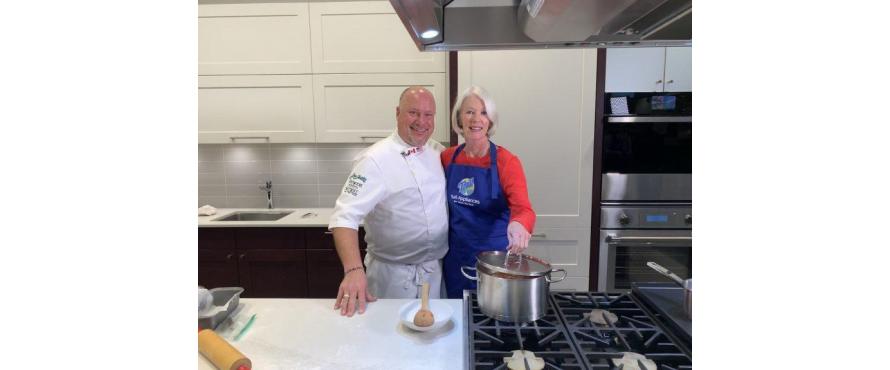 Ali's Ukrainian Borscht Recipe
Ali beat out over 100+ other applicants to be one of four finalists in our Favourite Family Recipe Contest with Global News Morning. During November, we invited each finalist to the Live Kitchen in our Richmond showroom to share their history-rich recipes with us. You can now recreate Ali's Borscht recipe at home.
The story behind this recipe:
" I had an amazing Mom (and Dad). They met in Manitoba in their 20's, both of Eastern European roots, and came to B.C. and became dairy farmers. I was the youngest of 5 kids.
Mom had a big garden, and in the summer there was no lack of fresh vegetables to make the family's favourite - borscht! Beets and dill, new potatoes!! Our big meal was often at lunch and called 'dinner.' If there was borscht, you knew there'd also be her mile-high white bread to go with it, along with freshly churned butter! Our table of 7 often grew, as neighbourhood kids seemed to time their visits with our meal.
When mom was in her 80s, she spent one winter's evenings hand writing out recipes for her kids. Each of us got a spiral bound notebook filled with recipes that Christmas. There were tears. What we found later, was that she remembered what our individual favourites were, so the books varied in their content. However, we each got her borscht recipe.
Making borscht can be somewhat labour intensive, with the chopping and slicing, so I've included a picture of the slicer /grater/shredder she used. Our family, in the 1950's, would make one foray into Vancouver a year via the old Fraser Highway, as the freeway hadn't happened yet, and that was to go to the PNE. One year my dad saw the 'slicer' demonstrated by a hawker in the food pavilion, and bought it for my Mom. It was one of his better purchases, as it sped up the production. Somehow, I've ended up with it, although I don't advertise that fact to my siblings."
Ingredients:
Spice bag:
2-5 peppercorns,

1-2 bay leaf

1/2 red hot pepper
Borscht ingredients:
1 large beet (shredded)

2-3 carrots (shredded)

2-3 potatoes (cubed)

3 cups of cabbage (finely chopped)

1 can of tomato soup

1/2 cup of fresh dill
Optional ingredients:
Parsley

1/3 cup of pearl barley
Directions:
Stock:
Place several meaty soup bones in 10-12 cups of water and bring to a boil.

Skim off the scum that forms on the top.

Simmer for 2-3 hours or until the meat starts to fall apart from the bones.

Remove the bones from the stock.

Save the meat from the bones.

Strain the stock through a sieve.

Bring the stock to a boil again in a large (soup) pot.
Borscht:
Place peppercorn, bay leaf, red hot pepper in a spice bag. Add to stock.

Add parsley to the stock.

Add the beets, carrots, potatoes and cabbages.

Continue to simmer until vegetables are thoroughly cooked and softened.

Add the meat saved from the stock and tomato soup.

Stir in chopped fresh dill and salt and pepper to taste.
Tip:
Add a few tablespoons of ketchup and 1 tablespoon of sugar to improve flavour.

You can also use chicken or turkey stock as the base.
Looking to recreate the other finalists' recipe at home? Find them on our recap blog with video segments of Global News Morning, where our finalists shared their fond childhood memories of their dish.