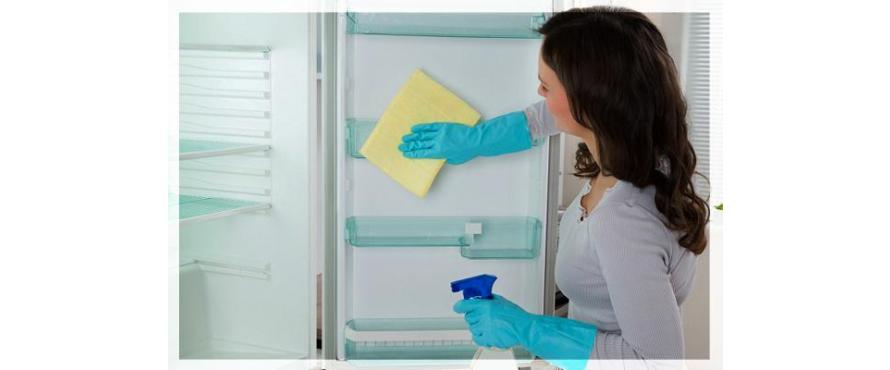 Refresh Your Home with Our Spring-Cleaning Appliance Tips
Spring is finally here! Time to put away your winter wardrobe, throw open the windows and give your home a much-needed clean. While you're clearing out the last remnants of winter from your home, however, don't forget to give some attention to your hardworking appliances. Good appliance maintenance helps maintain the lifespan of your products and prevents unnecessary – and sometimes expensive – repairs.
Here are some of our expert tips to help you get your home appliances sparkling clean:
Refrigerators
If your fridge is stainless steel, spray on some stainless steel polish and work it in with a soft, non-abrasive cloth. Try to go with the grain. We have a great video that shows you how.
If your fridge is black stainless steel or stainless steel with a coating to eliminate fingerprints, it's even easier! Simply take a wet cloth, do a quick wipe and finish with a dry cloth. Don't use aerosol cleaners or chemicals as they can cause the coating to peel off.
For other finishes, you can wipe doors with a clean, damp cloth, or use a mild detergent. Use a soft cloth to dry and polish.
Additional Tips:
Remember to clean your doors, bins, shelves, drawers and interior surfaces. It's best to let them warm up to room temperature before you hand-wash them. It will be easier to remove residues and spills.
If your fridge's toe grille is removable, simply lift it out and use a vacuum to remove dust and dirt. Then, wipe down and make sure that the grille is completely dry before replacing.
It's also a good idea to inspect and clean the condenser coils, as they can get clogged with pet hair, dust and dirt. Located at either the back of the fridge or across the bottom front, they can be cleaned with either a vacuum or a coil-cleaning brush.
Don't forget to clean your icemaker! This component is often neglected, but it can harbour nasty germs if not properly cleaned. If you have an icemaker installed, you may want to remove the chute to clean it. Consult your manual to find out how to remove it safely for cleaning.
Electric Coil Cooktops
Though most debris will burn off as you cook, it's always wise to give your electric coil burners a thorough clean at least once a month. First, ensure the burner is off. Then, carefully detach the coil. Wash off any light debris with a wet soapy sponge. For difficult spills, you might have to use a little more elbow grease. When it comes to stubborn stains, simply make a paste with a bit of baking soda and water, then let sit for 30 minutes. Once ready to use, apply with a sponge and scrub to loosen debris. Cover the area with the paste and let it soak into the stain for a few minutes. Then, finish with one last good scrub and rinse off the paste with a wet clean sponge. Dry completely before replacing the burner coil.
Additional Tip: Also remember to clean your drip pans. Wash them with a wet soapy sponge or run them through the dishwasher, then fit them back into place on your cooktop when dry.
Smooth-Top Cooktops
If you have a smooth-top cooktop, we recommend using a cleaner made especially for glass cooktops.
Check the instructions on the bottle. In most cases, you simply apply the cleaner on the surface, then use a non-scratch sponge to wipe it down.
For stubborn build-up, use a scraper to remove the build-up. Many cooktop cleaner kits will come with a scraper you can use that won't scratch the cooktop surface.
Ovens
Ovens come with at least one of two options to remove baked-in residues, grease, and leftover spills inside. Before starting, consult your appliance manual for instructions.
The most common option is the self-cleaning feature. Also known as pyrolytic cleaning, this uses extremely high heat to burn the residues into an easy-to-wipe ash that you can remove with a sponge. It does take 2-3 hours to complete, so plan ahead. (We don't recommend doing this right before a big event, just in case.)
Another option is the steam-clean feature. If your oven comes with this feature, you can usually place a small amount of water in the oven. As the water heats up, it turns to steam, and the resulting condensation will help loosen residues that you can gently wipe away with a cloth or sponge. Check your manual for full details.
Additional Tips:
Prevention is key. It will take much less time to clean your oven if you do so regularly, instead of leaving it to a once-yearly clean that can take all day.
Before you give the inside of your oven a good clean, remember to remove all racks, pans and foil. While your oven self-cleans, you can clean these removable components by hand using a sponge or cloth and some dish detergent.
It is always best to remove as much grease or baked-on food as you can prior to using an oven's built-in cleaning features.
Dishwashers
Dishwashers can often get caked with residues, food particles and grease. You can usually clean the exterior by wiping it with a wet sponge soaked in hot, soapy water. For stainless steel dishwashers, you can often use stainless steel cleaner & polish. It's best to spray the cleaner onto a soft cloth or paper towel instead of directly onto the front, to avoid damaging the electronic controls. Always wipe with the grain. Check the bottle for full details.
To clean your dishwasher filter, check your appliance manual for instructions on how to remove and clean it safely. If the filter has any clogs, you can clear them with a toothpick or wooden skewer. You can also use a small brush, which is helpful for removing tiny debris such as coffee grounds. Check the spray arms for clogs as well.
To remove any unwanted odours, you can place a clean bowl with a few cups of vinegar near the center bottom rack. Run a normal dishwasher cycle without detergent and the vinegar solution will disperse throughout the cycle and deodorize the interior of your machine.
Laundry
Trapped bacteria and soap residues can often leave your washing machine with a funky smell. To remove those residues, run your washer at least once a month on the hottest, longest cycle (with no clothes). This will help kill unwanted bacteria. Also, clean the drain pump, which is typically located on the front bottom of the washing machine. This can get clogged with hair, lint and other debris. Remove debris by hand, or with the help of a damp sponge, and finish with a good rinse of water and then dry thoroughly with a soft cloth before replacing.
For your dryer, clearing the lint trap is great, but don't forget to clean the screen itself. Use some hot water and mild detergent to remove any buildup. You can also clean the inside of the dryer drum with some mild detergent and warm water. Wipe clean and then tumble dry some clean towels to dry the drum.
Additional Tip: To remove those undesirable odours, it's important to remove the cause of the smell. Using less laundry detergent will help, as will using a high-efficiency (HE) detergent, especially in front-loaders. Because most of BC is blessed with soft water, you often need less than the manufacturer-recommended amount of detergent for cleaning.
Barbecues
As the warmer weather approaches, you'll want to make sure that your BBQ is ready to use. A well-cleaned BBQ will ensure no undesirable residues remain on the grill.
Begin with the grates. Scrape off any residue with a stainless-steel brush before you remove them, then clean both sides with a towel soaked in soapy warm water.
To clean your burners, carefully use a wire brush to take off any surface corrosion. Check the burner ports as well for any clogging debris. If they are clogged, simply use an opened paper clip to clear them – just be careful not to enlarge the burner ports while doing so.
Give your drip pan a good yearly clean by scraping the debris into the disposable grease tray that sits alongside the drip pan, but also clean periodically to keep your BBQ in good order and replace the disposable grease tray every few weeks.
For super-stubborn black residues underneath the BBQ lid, use a stainless-steel brush and soapy water to scrub them off. Also, remember to give the outside of your BBQ a good wash with warm soapy water and a soft cloth to dry (go with the grain if it's stainless steel).
---
Of course, before embarking on your spring-cleaning rituals, we recommend you consult your appliance manual for cleaning best practices and any special care instructions.
Want more cleaning and maintenance tips? Subscribe to our newsletter and follow us on social media for the latest tips and tricks.