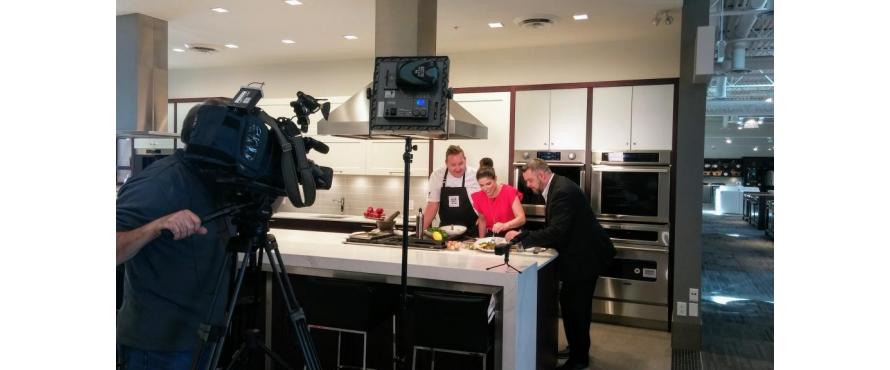 Steam Cook Your Way to a Healthier Lifestyle
Kaitlyn Herbst from Global News Morning Weekend, Chef David Robertson from The Dirty Apron and Drew Farrell from Trail Appliances Langley stopped by our Richmond Showroom for a fun and informative Open House Segment featuring steam cooking.
Watch the video below to see Chef David Robertson create a simple and healthy West Coast meal— Thai steamed salmon, herb roasted potatoes and multi-coloured baby carrots. This locally-inspired dish was created using the Steam Bake feature in the Stainless Steel Wall Oven with Convection from the Samsung Built-In collection, prepared in our very own Live Kitchen at Trail Appliances Richmond Showroom.
Steam Cooking Fast Facts
Steam cooking is one of the healthiest and easiest methods of preparing food. There are many benefits to incorporating steam cooking into your daily food preparation— saving time, enhancing the quality of your home-prepared meals and taking the first step towards a healthier lifestyle.
Speed
Steam cooking is faster than a standard convection oven when it comes to all types of foods, including fish, poultry, meats and vegetables. Plus, you can steam cook a variety of dishes simultaneously—saving time, energy and money!
Quality
Steam cooking retains the colour, flavour and freshness of food. When reheating leftovers, steam restores the lost moisture into your meals so that they taste as fresh as they did when they were first cooked.
Health
Your health matters, and the way you prepare your food can contribute to a more wholesome meal. Steam cooking retains more nutrients, vitamins and minerals than other forms of cooking. It also allows you to thoroughly cook your meals without added fats and oils, resulting in lighter and healthier meals.
For more information on products and to get helpful tips, take a look at our other blog articles or sign up for our E-newsletter.