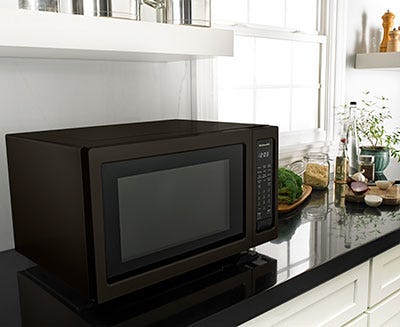 A microwave is a kitchen necessity. For working families, microwaves can offer a quick way to get a warm meal on the table.
You'll find microwaves with various power settings to prepare all types of food. Technology also allows some microwaves to automatically adjust cooking time as needed to deliver optimal results!
When choosing a microwave for your kitchen, consider your counter space. Built-in microwaves will free up counter-top space for cooking preparation. Drawer microwaves allow for flexible installation under countertops, in an island, or below a wall oven.
Our selection of microwaves includes a wide variety of countertop, drawer, built-in and over-the-range microwaves. Talk to one of our product experts, or browse our microwaves and check out our Buying Guide for tips on finding the right microwave for your household.
×
Trail Appliances
Choose Store
Parking may be scarce due to construction.
Reliable Parts Kiosk
---
Pick-ups available Mon-Sat 9am-4pm
---
---