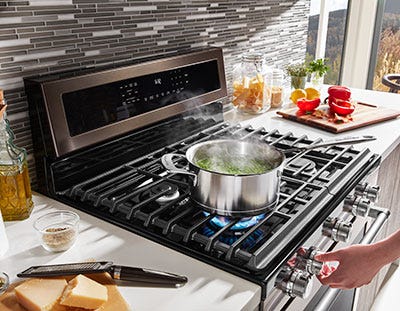 When you're looking for a range, think about how you cook. Whether you love working with multiple saucepans at once, or putting the finishing touches on your favourite dish, modern ranges can let you cook more dishes at once!
Freestanding ranges can be placed anywhere, while slide-in ranges are designed to fit between cabinets. Intuitive controls give your kitchen a sleek look, and make operating your range a breeze.
With advanced features like the self-cleaning function and even baking technology, you'll free up your time for the fun things in life!
Talk to one of our product experts, or browse our selection of ranges and check out our Buying Guide for tips on finding the right range for you. With the ideal range, dinner will be right on schedule!
×
Trail Appliances
Choose Store
Parking may be scarce due to construction.
Reliable Parts Kiosk
---
Pick-ups available Mon-Sat 9am-4pm
---
---