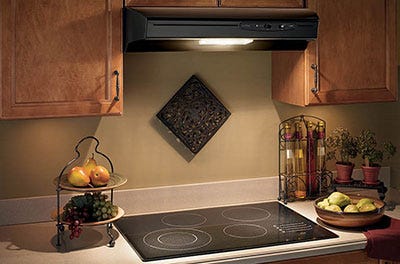 Ventilation and hoodfans help remove smoke, steam, vapour and grease from the air in your kitchen. Having a ventilation system above your cooktop or range also helps remove excess heat and unwanted pollutants.
Hoodfan performance depends on its airflow, sound, power. There are various options for ventilation in your kitchen, such as wall mount ventilation, under-cabinet ventilation, custom hood ventilation and combination microwave/hoodfan (OTRS). Just make sure you also have the proper ducting to remove contaminants from your home!
For more tips on finding the right ventilation for your kitchen, be sure to talk to one of our product experts or take a look at our Buying Guide.
×
Trail Appliances
Choose Store
Parking may be scarce due to construction.
Reliable Parts Kiosk
---
Pick-ups available Mon-Sat 9am-4pm
---
---
Broan 30 inch 160 CFM Under-Cabinet Hoodfan - White

BU230WW

Plus Receive a 10% Instant Rebate

Broan 24 inch 180 CFM Under-Cabinet Ventilation Hoodfan - Almond

BP124ALN

Plus Receive a 10% Instant Rebate

Broan 30 inch 180 CFM Under-Cabinet Ventilation Hoodfan - White

BP130WHN

Plus Receive a 10% Instant Rebate

Broan 30 inch 160 CFM Under-Cabinet Hoodfan - Black

BU230BL

Plus Receive a 10% Instant Rebate

Broan 30 inch 160 CFM Under-Cabinet Hoodfan - White

BU230WH

Plus Receive a 10% Instant Rebate

Broan 24 inch 160 CFM Under-Cabinet Hoodfan - White

BU224WH

Plus Receive a 10% Instant Rebate

Broan 24 inch 190 CFM Under-Cabinet Ventilation Hoodfan - White

GP124WHN

Plus Receive a 10% Instant Rebate

Broan 30 inch 160 CFM Under-Cabinet Hoodfan - Stainless Steel

BU230SS

Plus Receive a 10% Instant Rebate

Broan 24 inch 190 CFM Under-Cabinet Ventilation Hoodfan - Almond

GP124ALN

Plus Receive a 10% Instant Rebate

Broan 24 inch 160 CFM Under-Cabinet Hoodfan - Stainless Steel

BU224SS

Plus Receive a 10% Instant Rebate

Broan 30 inch 190 CFM Under-Cabinet Hoodfan - White

BU330WH

Plus Receive a 10% Instant Rebate

Broan 30 inch 190 CFM Under-Cabinet Hoodfan - White

BU330WW

Plus Receive a 10% Instant Rebate

Broan 20 inch 250 CFM Custom Hood Ventilation Hoodfan - Stainless Steel

PM250

Plus Receive a 10% Instant Rebate

Broan 24 inch 190 CFM Under-Cabinet Hoodfan - White

BU324WW

Plus Receive a 10% Instant Rebate

Broan 30 inch 190 CFM Under-Cabinet Hoodfan - Stainless Steel

BU330SS

Plus Receive a 10% Instant Rebate

Broan 24 inch 250 CFM Under-Cabinet Ventilation Hoodfan - White

BCS324WWC

Plus Receive a 10% Instant Rebate

Broan 30 inch 250 CFM Under-Cabinet Ventilation Hoodfan - Black

BCS330BLC

Plus Receive a 10% Instant Rebate

Broan 30 inch 250 CFM Under-Cabinet Ventilation Hoodfan - White

BCS330WWC

Plus Receive a 10% Instant Rebate