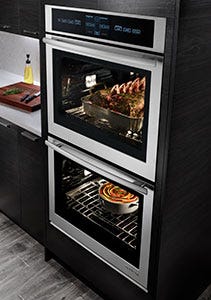 Built-in wall ovens give your kitchen a sleek and modern look. Single ovens work great for the standard family kitchen, while double ovens are perfect if you cook multiple dishes at a time or need to prepare a big meal.
If you're looking for alternative methods for cooking to help preserve nutrients in your food, steam ovens are a great option! Convection ovens can help if you want quick and even cooking. We also carry a wide selection of combination ovens if you're looking for an appliance that can multitask.
Browse through our selection of wall ovens to find the right built-in oven for your kitchen. For more tips on finding the perfect oven, talk to one of our product experts or look through our Buying Guide today!