×
Trail Appliances
Choose Store
Parking may be scarce due to construction.
Reliable Parts Kiosk
---
Pick-ups available Mon-Sat 9am-4pm
---
---
Dishwashers are an essential part of any kitchen. Not only do they save time, they save water and energy. Dishwashers have many different options (like a third rack for cutlery) and technologies (like water-leak protection) to fit your lifestyle.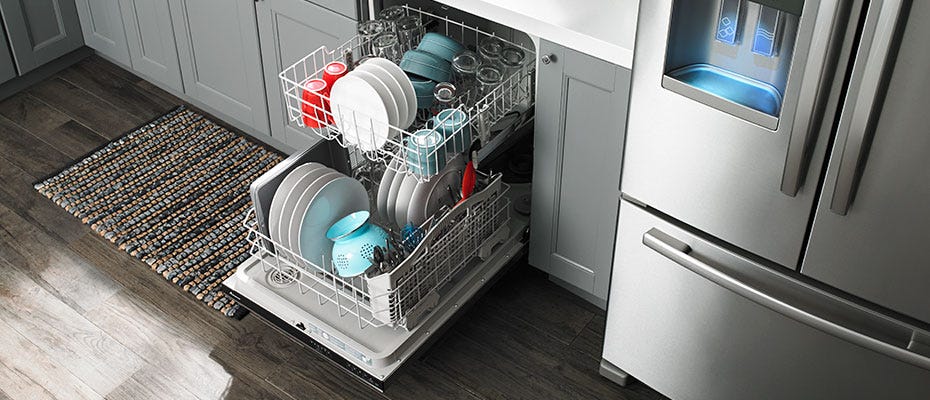 Product Considerations
The wash cycles you need depend on your lifestyle.
Light, Regular, Pots & Pans

and

Economy

settings are available on most dishwashers and are probably the ones used most often.

Quick Wash

uses less time than

Regular Wash

, if you are in a rush or only have lightly soiled dishes.

Sanitize Wash

(NSF certified), provides high heat to help eliminate 99.9% of bacteria while enhancing your drying results.
Enhanced cycles such as

Glass, Stemware

or

Rinse

take care of delicate items.
Dishwasher interiors are either stainless steel or plastic. Stainless steel is more durable, hygienic and stain resistant than plastic. They also retain heat better than their plastic counterparts, making them more energy-efficient as well.
Dishwasher installation is done via a third-party installer. Your Trail Representative can help co-ordinate your installation with a Trail-recommended installer.
Home & Lifestyle Considerations
An ENERGY STAR® dishwasher will save money and energy. Today's dishwashers have become much more efficient to operate, but cycles have become longer. Some dishwashers have low water features or 'quick wash' options, which are handy if you're on metered water use. Or, if your electricity usage is calculated on time-of-use rates, you can choose a dishwasher with a 'delay start' option: you can set the dishwasher to wash later when energy is cheaper.
Will your dishes and flatware fit in your new dishwasher? Compact or European dishwashers are often designed to hold average European dishes, which are usually a smaller diameter than North American dishes. Bring some of your dishes into a Trail store to test them out in a few different dishwashers.
End household arguements about how to properly load your dishwasher by reading the instruction manual. Each dishwasher is different and the manual will have the proper instructions for loading, cleaning and maintaining your particular dishwasher.