×
Trail Appliances
Choose Store
Parking may be scarce due to construction.
Reliable Parts Kiosk
---
Pick-ups available Mon-Sat 9am-4pm
---
---
The world of appliances is always changing, and today's appliances are smarter and more complex than ever. Buying new appliances can sometimes be intimidating, but Trail Appliances is here to help. Along with a remarkable showroom and selection, we have a team of product experts that's constantly updating their product knowledge to keep up with the latest technology and trends.
You'll find an easy, relaxed experience when you shop with Trail Appliances. Here's how we do it.
Product Expertise
At Trail Appliances, our product experts are more than appliance specialists, they're part of a strong, experienced team. They undergo extensive and continual training to ensure you get the best and most knowledgeable service possible. Whether you're replacing an appliance or looking to build your dream kitchen, this capable team will help you find exactly what fits your space.
With an average of 10 years of service, our product experts know a lot about appliances. In addition to going through a comprehensive training programs, our product experts participate in regular seminars from various manufacturers and suppliers so they have the most up-to-date information about new products and technology that will help you find the best fit for your budget and lifestyle.
Selection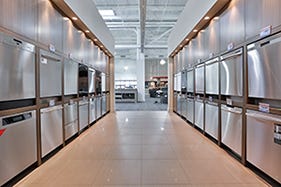 Trail Appliances is Western Canada's largest independent appliance retailer. We offer over 50 quality brands to choose from. Choosing the right appliances to fit your budget and lifestyle is easier when you have plenty of options. We have an extensive and exciting collection of appliances from North America, Europe and Asia. Trail Appliances also carries a large selection of specialty product categories – including beverage centres, wine coolers, coffee makers and BBQs.
When choosing our brand partners, we work with companies that align with our values – companies that offer superior value, unparalleled customer service and ongoing product innovation.
View Our Brands
Delivery and Installation
With experienced delivery personnel on staff and our own fleet of delivery trucks, we provide timely, top-notch service. You can rest easy knowing your purchase will be handled with the utmost care. Our goal is to have a hassle-free delivery every time.Read more...
Financing
Trail Appliances makes it easy for you to own the kitchen of your dreams. We have flexible financing and payment options available. Contact your local Trail Appliances location for details. Read more…
Price Guarantee
As part of our commitment to our valued customers, Trail Appliances' Price Guarantee is designed to ensure that you receive competitive pricing on your appliance purchase. If you find an advertised price, either online or in print, at another local appliance retailer before you buy or within 30 days of delivery of your purchase from Trail Appliances, we'll match the qualifying price. Read more…
Product Protection Plan
At Trail Appliances you'll find a wide selection of products to meet your needs – but even the most reliable brands can break down with everyday use. We offer product protection plans for your peace of mind. From refrigerators to washers, you can relax knowing your product is covered even after the manufacturer's warranty runs out. Read more…