What's Happening at Trail
×
Trail Appliances
Choose Store
Parking may be scarce due to construction.
Reliable Parts Kiosk
---
Pick-ups available Mon-Sat 9am-4pm
---
---
At Trail, we're committed to connecting with our customers, both inside and outside of our showrooms. Here's a selection of some of the events and initiatives Trail Appliances is involved in.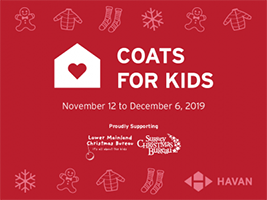 TRAIL APPLIANCES SUPPORTS THE COATS FOR KIDS CAMPAIGN
Posted: November 12, 2019
Trail Appliances is proudly participating in the 24th Annual Homebuilders Association Vancouver (HAVAN) Coats for Kids campaign to help make a difference in our community. Visit one of our 8 Metro Vancouver showrooms to donate your new or gently used coats, scarves, gloves, blankets, or unwrapped toys. We are collecting coats from November 12 to December 5!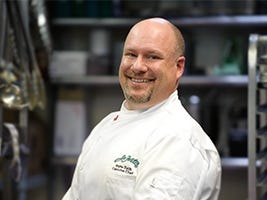 OUR PARTNERSHIP WITH EXECUTIVE CHEF WAYNE SYCH, JOE FORTES SEAFOOD & CHOP HOUSE
Posted: August 6, 2019
Trail Appliances is proud to partner with Wayne Sych, Corporate Executive Chef at Joe Fortes Seafood & Chophouse. Together, we'll be inspiring you with cooking tips, recipes for Joe Fortes favourites, and even a behind-the-scenes look into a chef's home kitchen. Follow us on Facebook or Instagram, or sign up for our e-newsletter for all the updates!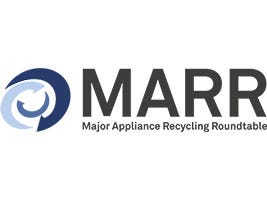 New MARR Fees Effective April 1, 2019
Posted: March 19, 2019
The Major Appliances Recycling Roundtable (MARR) is a stewardship agency within BC that directs the recycling of major household appliances. Due to the increasing cost of recycling appliances, MARR's fees will increase on April 1, 2019. These fees will vary according to the type of appliance in relation to the cost of recovering and recycling that appliance type. Trail customers can avoid paying the increased fees by making payment in full before April 1, either through the "Make a Payment" section on our website or by contacting our Customer Support Team. You can read more information about MARR and the increased recycling fees at Marrbc.ca.
Consumer Choice Award 16 Years Running
Posted: January 28, 2019
Trail Appliances is proud to be a winner of the 2019 Vancouver Consumer Choice Award in the Home Appliance Sales & Service Category. This is the 16th year in a row we have received the award, which is decided through a four-step process involving researching thousands of customers and identifying companies with the highest quality and customer satisfaction ratings.
A Unique Collaboration with Interior Designer, Jamie Banfield
Posted: January 9, 2019
Trail Appliances is proud to partner with award-winning Interior Designer, Jamie Banfield. Together, we'll be bringing you inspiring content like home design trends, valuable renovation advice and tips and tricks to make your home magazine-worthy. Follow us on Facebook or Twitter, or sign up for our e-newsletter for all the updates!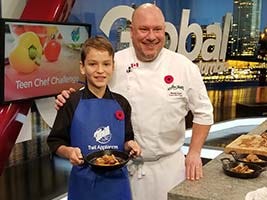 Trail Appliances Teen Chef Competition on Global TV
Posted: December 1, 2018
We were pleased to sponsor the 2018 Trail Appliances Teen Chef Challenge, and to watch the aspiring teen chefs show off their cooking skills, both in our showroom and live on Global News Morning. Congratulations to the grand prize winner--13-year-old Josiah Foster-- who will be taking home a special culinary package from ZWILLING® Canada!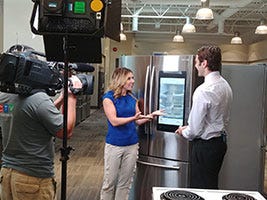 CTV Ask An Expert Series
Posted: October 8, 2018
CTV's Krissy Vann stopped by our showroom to get the scoop on the latest in appliances. Our product experts shared useful safety tips, cleaning hacks, new appliance technology and tips you need to know when shopping for new appliances. Don't miss our featured segments on CTV's Ask An Expert series.