×
Trail Appliances
Choose Store
Parking may be scarce due to construction.
Reliable Parts Kiosk
---
Pick-ups available Mon-Sat 9am-4pm
---
---
As part of our commitment to our valued customers, Trail Appliances' Price Guarantee* is designed to ensure that you receive competitive pricing on your appliance purchase.
If you find an advertised lower price online or in print at another appliance retailer before you buy or within 30 days of delivery of your purchase from Trail, we'll match the qualifying price.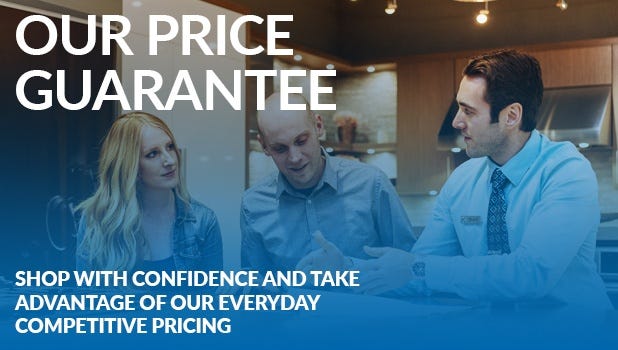 What Happens If You Find a Lower Price?
If you've already purchased the product from Trail Appliances and qualify for a price adjustment, you can do so up to 30 days after delivery of your appliances if the price meets the conditions below.
For new orders where a competitive price match is being requested, the requested price must meet the conditions outlined below.
Conditions
The product must be the exact same brand and model number as you are purchasing and you must provide the competitor's online or print advertisement for verification. Handwritten prices, emails or prices written on business cards do not qualify.
Lower product prices due to an advertising error or misprint, restricted offers, mail order offers, rebates, coupons, free or bonus offers do not qualify. Competitors' Black Friday, Cyber Monday, Boxing Day prices also do not qualify.
The product must be priced in Canadian Dollars. Any environmental fees and other charges must be clearly outlined.
The product must be sold AND shipped by a retailer or authorised dealer located in British Columbia. Check the dealer's shipping policy on the competitor's site to confirm.
The product must be in stock, available for sale, and not a limited-time offer or available only in limited quantities.
Price Guarantee does not apply to add-on related services such as delivery, installation, maintenance agreements, and Protection Plans or close-out models, liquidations, and clearance items. It also does not apply to Miele Products.
Price Guarantee does not apply to builder contract pricing, bid pricing, membership, group or club pricing, prices from online auction, bid or retail aggregator sites, online-only retailers, or pricing not otherwise generally available to the public.
Only one price adjustment per order allowed.
*Price Guarantee is subject to change without notice.