×
Trail Appliances
Choose Store
Parking may be scarce due to construction.
Reliable Parts Kiosk
---
Pick-ups available Mon-Sat 9am-4pm
---
---
A range, or stove, is an appliance with both a cooktop and an oven. A standard range is 30 inches wide; however, models can range from 24 inches to as wide as 60 inches.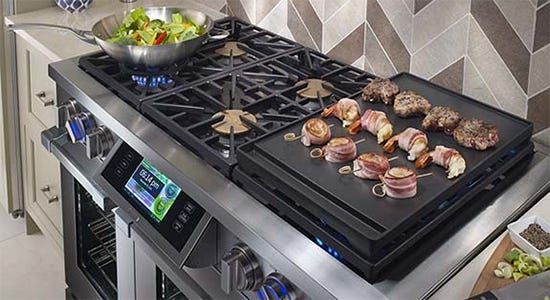 Look and Functionality
Freestanding ranges have finished sides and a backsplash where the controls are located. Because of the finished sides, you can place it anywhere you want.
Slide-in ranges have unfinished sides since they are designed to fit between cabinets. There is no backsplash and the controls are at the front of the range.
Cooktops are an option if you are building or renovating your kitchen. Cooktops are built into your counter, while the oven (known as a wall or built-in oven) is typical built into a wall or cabinet.
Types of Ranges
Evaluating how you cook and how you plan to use your range can help you decide the type of range and features that are best for you.