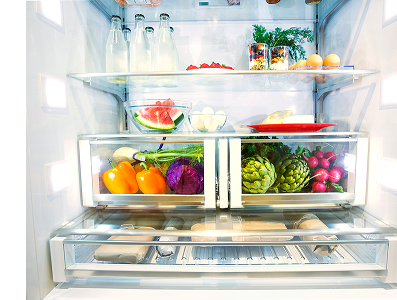 Refrigerators are the centrepieces of our kitchens. Not only are fridges becoming sleeker and more aesthetically appealing, but they are also more energy efficient and better at keeping food fresh longer. No matter what kind of space you have, whether you are looking for a French door or bottom freezer fridge, we have the perfect refrigerator for you. For tips on picking the right fridge for your household, look for our Buying Tips.
The products online are just a small selection of the thousands of models and over 50 brands we carry. Call or visit one of our locations to see our vast selection for yourself.
×
Trail Appliances
Choose Store
Parking may be scarce due to construction.
Reliable Parts Kiosk
---
Pick-ups available Mon-Sat 9am-4pm
---
---
Danby Freestanding or Built-in 18 inch 1.7 cu.ft. Compact Bar Refrigerator - Black, Hinge on Right

Other Models:

DAR017A3WDB

DAR017A3BSLDB

Danby Freestanding or Built-in 18 inch 1.7 cu.ft. Compact Bar Refrigerator - White, Hinge on Right

Other Models:

DAR017A3BDB

DAR017A3BSLDB

Danby Freestanding or Built-in 18 inch 1.7 cu.ft. Compact Bar Refrigerator - Stainless Steel, Hinge on Right

Other Models:

Danby Freestanding or Built-in 18 inch 2.6 cu.ft. Compact Bar Refrigerator - Black, Hinge on Right

Other Models:

Danby Freestanding or Built-in 18 inch 2.6 cu.ft. Compact Bar Refrigerator - White, Hinge on Right

Other Models:

Danby Free-standing 18 inch 3.2 cu.ft. Compact Bar Refrigerator - Silver, Hinge on Right

Other Models:

Danby Freestanding or Built-in 18 inch 2.6 cu.ft. Compact Bar Refrigerator - Stainless Steel, Hinge on Right

Other Models:

DAR026A2BDB

DAR026A2LDB

DAR026A2WDB

Danby Freestanding or Built-in 18 inch 2.6 cu.ft. Compact Bar Refrigerator - Black, Hinge on Right

Other Models:

DAR026A2BSLDB

DAR026A2LDB

DAR026A2WDB

Danby Freestanding or Built-in 18 inch 2.6 cu.ft. Compact Bar Refrigerator - White, Hinge on Right

Other Models:

DAR026A2BSLDB

DAR026A2BDB

DAR026A2LDB

Danby Freestanding or Built-in 18 inch 3.3 cu.ft. Compact Bar Refrigerator - Black, Hinge on Right

Other Models:

DAR033A6BSLDB

DAR033A6WDB

DAR033A6DDB

Danby Free-standing 18 inch 3.2 cu.ft. Compact Bar Refrigerator - Black, Hinge on Right

Other Models:

DCR032A2BSLDD

DCR032A2WDD

Danby Free-standing 18 inch 3.2 cu.ft. Compact Bar Refrigerator - White, Hinge on Right

Other Models:

DCR032A2BSLDD

DCR032A2BDD

Danby Free-standing 21 inch 4.4 cu.ft. Compact Bar Refrigerator - Black, Hinge on Right

Other Models:

DCR044A2WDD

DCR044A2BSLDD

Danby Free-standing 21 inch 4.4 cu.ft. Compact Bar Refrigerator - White, Hinge on Right

Other Models:

DCR044A2BDD

DCR044A2BSLDD

Danby Freestanding or Built-in 18 inch 3.3 cu.ft. Compact Bar Refrigerator - White, Hinge on Right

Other Models:

DAR033A6BSLDB

DAR033A6MDB

DAR033A6BDB

Danby Freestanding or Built-in 21 inch 4.4 cu.ft. Compact Bar Refrigerator - Black, Hinge on Right

Other Models:

DAR044A4BSSDD

DAR044A4WDD

Danby Freestanding or Built-in 21 inch 4.4 cu.ft. Compact Bar Refrigerator - White, Hinge on Right

Other Models:

DAR044A4BSSDD

DAR044A4BDD